Our team
Team of volunteers and professionals
ALBOAN Development NGO is formed by a team of volunteers and professionals who, from their Christian spirituality, work for the creation of a citizenship committed to the human development and the search for justice.
44 people on staff and 200 volunteers rowing together for the achievement of a fairer and a more solidary future.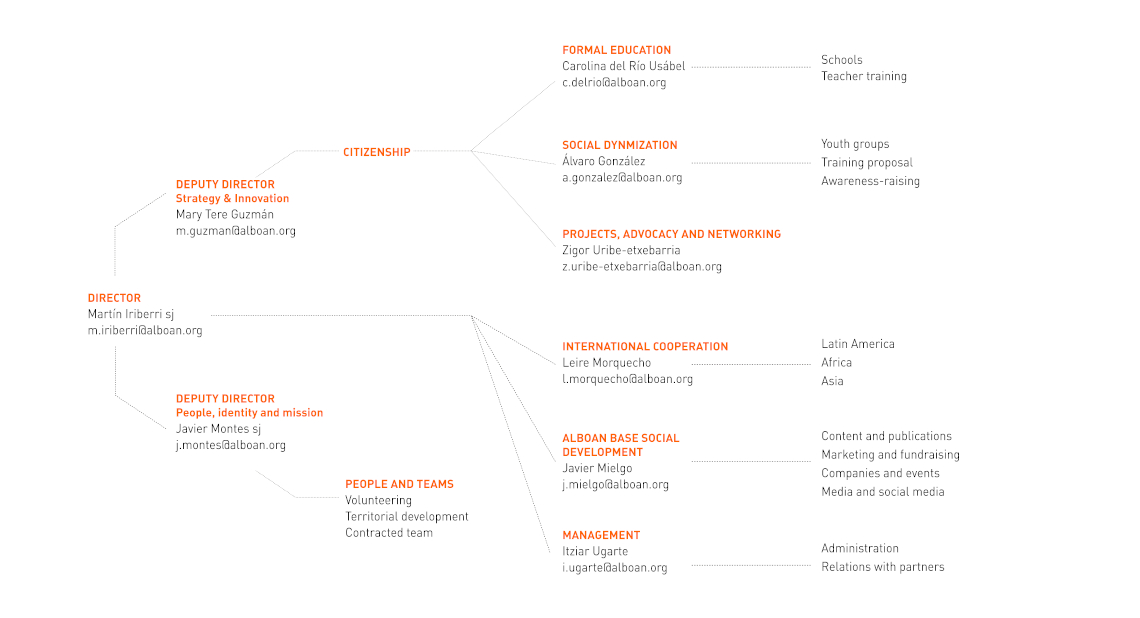 SOCIAL BASE
ALBOAN's social base is made up of the set of people, groups and institutions who feel identified with our mission, vision and values and who, through active and conscious commitment, contribute to the achievement of our goals, with a determination for this to continue over time.
At ALBOAN we believe our social base provides:
Financial independence and autonomous action
Social legitimacy
Representativeness and social presence
The capacity to multiply our work in education, through mobilisation, action and dissemination of that work
At ALBOAN, the social base includes the following groups:
Trustees
Team of employees
Volunteers
Partners and financial donors
Education centres and teachers who use our teaching materials
Collaborating groups accompanied by ALBOAN
Collaborating companies
Works of the Society of Jesus
The Society of Jesus
Followers on social networks and blogs
Subscribers to our newsletters, magazines and publications
Consumers of the fair-trade products we promote
ALBOAN has a social basis of 5,900 people who contribute financially: 3,165 natural and legal persons who contribute regularly and 2,735 natural and legal persons who make one-off contributions.
The ALBOAN family includes 260 volunteers who work free of charge in our activities and projects, 235 of whom are in the Basque Country and Navarra, and 25 of whom took part in international volunteering programmes in the Global South in 2016. There are also 47 employees in the ALBOAN team.
ALBOAN and its family have grown considerably: we have reached 5,616 people with our training, 243 education centres have used our teaching materials (thanks to the commitment of more than 1,251 educators), our proposals have mobilised 34 youth groups.
Through our international cooperation work, we have supported 243 projects run by our 107 associated organisations in the South that have a direct impact on the lives of more than 503,000 people across the globe.
Without a doubt, the real treasures of our organisation are our mission, our closeness to people in the South, our team of volunteers and employees and the backup we get from the public and from associated bodies such as education centres, the public authorities and, of course, the University of Deusto, with whom our relationship has flourished in recent years.
This network of relationships has enabled ALBOAN's dream of contributing to constructing a global citizenship that rejects inequality and works toward building an inhabitable world for all humanity to move closer to becoming a reality, with the continual enrichment brought by the contribution of every organisation and individual. 
We thank all of them for their generous and ongoing commitment to ALBOAN. As a family, we'll go far!