Education sector
One of ALBOAN's key aims is to promote transformative, universal and high-quality education that allows groups and individuals to participate in building a new, inclusive, global society.
Since its beginnings, ALBOAN has backed this objective by dedicating a large portion of its resources to facilitating access to quality education.
More than 124 million young people across the world do not receive continuous quality education. Also, 58 million children aged 6 to 11 are out of school.
At ALBOAN, we work to make quality education accessible to as many people as possible. Some examples of this work are:
In Africa
In countries including DR Congo, Chad and Madagascar, we support the work of the Jesuit Refugee Service (Great Lakes) in education management in refugee camps and the work of Fe y Alegría in deprived rural areas and marginalised urban areas:
Setting up new schools and sourcing teaching materials.

Training and hiring teachers.

Supporting the formation of parents' associations, to involve families in the education process.

Supporting teenage victims of violence.
In Asia
In India we support the "Education for all" campaign, that works to facilitate access to quality education for the impoverished populations of rural areas in the state of Gujarat. They are primarily the Adivasi (indigenous) population and the Dalit (low caste) population, who are condemned to being slaves for the higher castes.
The campaign supports a wide network of education centres and boarding schools in Gujarat (India), which provide thousands of boys and girls, Adivasis and Dalits, with access to a right which they have historically been denied and, consequently, a future in which their dignity is recognised. More than twenty thousand children study in schools supported by ALBOAN.
In Latin America
We support the work carried out by Fe y Alegría in public education and social advocacy in rural areas and marginalised urban areas in Latin America. We support:
Teacher training.

Complementary programmes for children, teenagers, young people and adults to learn skills they can apply in everyday life and which enable them to handle processes of change and development in their personal, family and community lives.

The development of a solid and sustainable education project that contributes to improving living conditions.

Financing the structural costs of many education centres.

Education work to train leaders and promote their initiatives, thereby fostering social and economic change in their communities.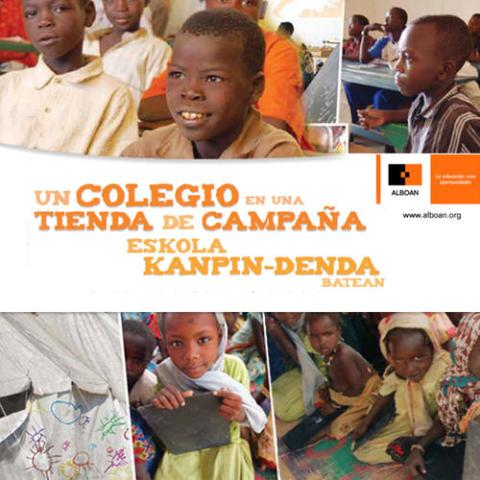 A school in a tent
This is an example of our education work in refugee camps
We want to raise awareness of the humanitarian crisis being experienced by millions of refugees and people forced to migrate. We want you to add your support to changing their circumstances, and for our part we firmly commit to providing them with access to a decent education.
Educational proposals