Munduko txokoa - A window to the world
Solidarity training
"Munduko Txokoa - A Window to the World, solidarity training" is an open space for citizen training. ALBOAN offers a regular programme of fun and informative activities: talks, storytelling, film forums, concerts, workshops, round tables, etc.
We want to make society aware of different issues in order to get people involved in building a just world.
Munduko Txokoa - A Window to the World carries out its programme in different regions, led by ALBOAN in collaboration with other organisations:s:
Bilbao: ALBOAN, Centro Loyola, Fundación Social Ignacio Ellacuría and the University of Deusto.
San Sebastián:ALBOAN and Loiolaetxea.
Vitoria-Gasteiz: ALBOAN.
Pamplona: ALBOAN and Asociación SEI.
Seminars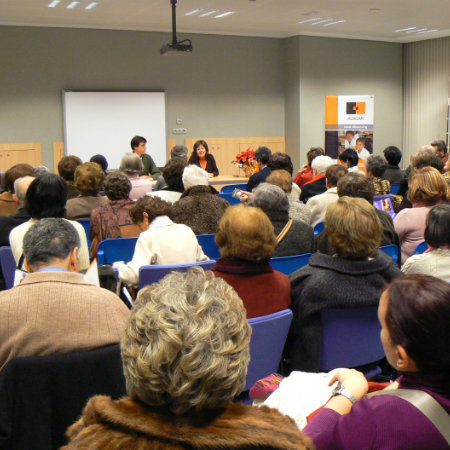 At ALBOAN, we believe that constructing a global, committed and solidary society is essential if we want to achieve a fairer and more equal world.
In this process of continual learning, it is essential to share existing knowledge and build new understanding. To that effect, we regularly organise seminars related to the areas we work in: interculturalism, co-education, responsible consumption, sustainable development, participation, spirituality, gender, inequality, taxation, etc.
The aim is to make our proposals rigorous and to train ourselves and the various people involved.
Bringing us Closer to the SOUTH
ALBOAN organises courses and seminars under the slogan "Bringing us Closer to the SOUTH" which deal with fundamental concepts of the reality in developing countries, and in turn their link to our societies, lifestyles and consumption models.
The training is open to all types of people. It is especially useful for those interested in participating in international volunteering programmes, and considers the role of the volunteer and their future experience.