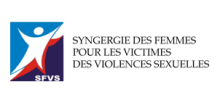 Synergie des Femmes pour les Victimes des Violences Sexuelles (SFVS)
Synergie des Femmes pour les Victimes des Violences Sexuelles (Women's Synergy for Victims of Sexual Violence) is a platform of 35 organisations largely comprised of women working to promote the well-being, autonomy and social integration of women and girls who have survived gender-based (sexual) violence in North Kivu, eastern DRC. The acclaimed activist Justine Massika is the director, and SFVS has been actively working since 2003 to assist the victims of violence in different areas, such as psychosocial, legal and workplace integration support.
Feminist strategies:
Peace-building and consolidation activities in active conflicts zones
Awareness and promotion of political leadership of women in rural areas. The women participate in activities geared towards strengthening social cohesion between different ethnic communities to help the victims of different armed conflicts to break down the culture of impunity and commit to participating in political arenas a grassroots level (neighbourhood groups, civil movements, local leadership, etc.).
Production and distribution of sensitization materialand radio programmes on various gender-related topics (UN resolutions, laws on sexual violence, women's leadership, etc.)
Political advocacy aimed at improving the social and economic conditions of women and survivors of gender-based violence in the Kivus, at international, national, provincial and local level.
Psychosocial support for survivors of gender-based sexual violence.
Economic empowerment of survivors of gender-based violence through entrepreneurship skills, professional training and income-generating activities.
Reference websites: