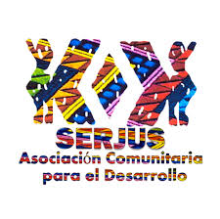 One of the main reasons that SERJUS came about was to respond to the need expressed by several groups and rural leaders to support the efforts of the communities in their physical and spiritual recovery, after the harmcaused by the years of violence and repression due to the internal armed conflict, the negative effects of which are still being felt, particularly among indigenous women in the form of heightened oppression and exploitation.
Since its beginnings, ASERJUS has worked to form sectoral programmes aimed at promoting regional networks for health, education, agriculture, micro-financing and greater female participation. In this regard, as a social organisation, ASERJUS has developed a process of knowledge, analysis and awareness of the situation and condition of women, which led it to acknowledge the institutional commitment of creating a Gender Equity Policy to strengthen its mission, vision and strategic objectives.
The work developed based on preparing the Gender Policy, and the institutional commitment to defending Women's Rights in the K´iche´ region of western Guatemala has strengthened the accompaniment, projection and deepening of processes to empower women as political and social players in their region.