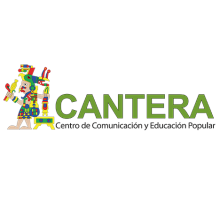 Centro de Comunicación y Educación Popular de Nicaragua- CANTERA- is a non-governmental organisation in service of the comprehensive development of rural and city communities. It has been at work for over 30 years, since its foundation in 1988.
One of the through lines of its work is Gender, aiming to contribute to the deconstruction of the patriarchal culture and identity both by men and women, to build new equitable relations and forge political commitment to transform reality. Cantera has had an Institutional Gender Policy since 2015.
In the programmes it develops and accompanies, it prioritises women, as is the case of the rural development scheme through which it has been assisting in the creating and running of several women's cooperatives, or the proposals for leadership and spirituality training, in which women leaders and representatives from women's organisations take part. In addition, for several years Cantera has been hosting spaces of reflection and collective construction around the co-educational approach.
CANTERA is a benchmark organisation for its methodological and training proposals made from a popular educational approach focused on gender equity and masculinities. In fact, this organisation heads up the Gender and Methodologies Regional Platform, which brings together multiple gender methodologies and tools and strengthens the processes of change towards fairer and more sustainable gender relations.