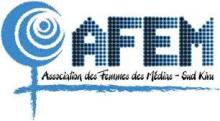 AFEM (Association des Femmes des Médias du Sud Kivu) RDC
The network of women journalists, AFEM, is a non-profit organisation made up of Congolese women from South Kivu. Its mission is to promotewomen's and children's rights, to work towards guaranteeing gender equality and peace-building and consolidating through the media. Its main toolis Mama Radio, a community radio station that focuses on four main themes:
Human rights: The rights of women and children, combating sexual and gender-based violence, gender equality, positive masculinity.
Peace building: Building and consolidating peace: promoting women's leadership.
Democracy and governance: Political participation of women; Elections.
Sexual and reproductive health
Community-based approach: To achieve sustainability of its activities in communities, AFEM fosters skills in the foundational community structures that act as their liaisons. To do so, they have organised different community listening clubs, community reporting workshops and participatory events with the main stakeholders in each community. In all of these, they address issues of gender-based violence, promotion of gender equity, and also active listening exercises on the needs/demands and concerns of the women participants.